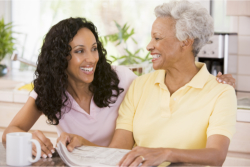 Home Care Management Services
At Heavensent Home Healthcare, we know how challenging it can be to care for aging parents when you are busy with a career, raising children, or live hundreds of miles away. Through our Care Management Services we can provide our client's families a peace of mind by providing the following:
Needs Assessments and Care Plan Development
Monitor Changes in Client's Needs
Coordinating Care with Physicians
Facility Placement
Assistance with Medicaid Application
Finding Community Resources Available
Assess Medication Compliance, Provide Education & Management
Nutrition Education and Management
Bill Paying and Management
Senior Care Plans, Health Care Management Services, Geriatric Care Managers and Nursing Care Plans
Our Care Management Services are provided by our experienced nurse case managers and medical social workers. For many of our client's families we have become their eyes, ears, hands, and feet, which have allowed them to become stress free. If you would like more information, call us now 1-888-750-6846 or send us a message online and we will contact you promptly.