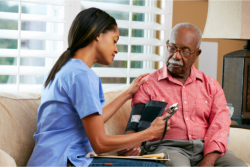 Home Health Care Skilled Nursing Services
If you have more complex medical condition, or would feel more secure with having a nurse, Heavensent Home Healthcare can provide you with skilled home care services utilizing our experienced nurses. Under a doctor's order our Registered Nurses (RN) and Licensed Practical Nurses (LPN) can provide home care services on a per visit, hourly, or live-in basis to assist with the following:
Medication Management
Infusion Therapy
Wound Care
Injections
Respiratory Care
Catheter Care
Complex Medical Conditions
Care Management
Any other skilled care ordered by a Physician.
In Home Nursing Services, Skilled Nursing and Home Care Nursing
If you are need of our skilled services, give us a call today at 1-888-750-6846 or set an appointment online and we will contact you to schedule a free nurse assessment in your home or facility.